"Designed for experienced event professionals who want to demonstrate their experience, skills, and proficiency in Cvent Event Management." – Cvent Inc.
Holders of the Cvent Event Management Advanced Certification have demonstrated expertise in using the Cvent Event Management platform's advanced capabilities. These skills include but are not limited to managing information across multiple events using Cvent best practices. They are familiar with advanced professional and enterprise features, including travel and accommodations, advanced rules, speaker and session management, and the use of discounts, taxes, and services fees. Certificate recipients have proven their ability to effectively leverage the advanced features available in the Cvent platform to boost event potential.
Cvent Inc.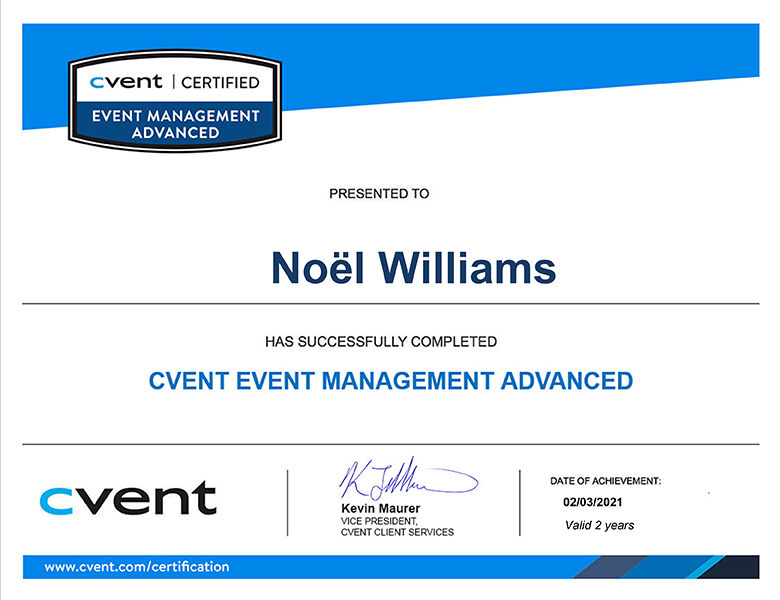 About Event Analytics & Design
Event Analytics & Design (EAD) is an event project management, event support, and technology management company specializing in virtual events, hybrid events & in-person/live events, registration services & attendee management, event technology, and event data analytics & engagement metrics. EAD excels in using data and technology to deliver exciting and innovative event experiences. Event Analytics & Design is a sister company to Typ A Marketing and a subsidiary of Video Illusions, Inc., a full-service production company focused on video production, web development including site design & online application implementation, brand development, multimedia creation, and corporate consulting. See all the ways that the Video Illusions, Inc. suite of properties (VIIP) can deliver a one-stop destination for all your branding, marketing, and programming needs. Headquartered in San Francisco, California, Event Analytics & Design is the brainchild of two industry experts with the mission to revolutionize the event management industry. For more information, visit www.eventanalyticsdesign.com or follow @EventANDSF on Twitter or Instagram.